April 19 — April 20 2018
April 2018: TenForce Admin Practitioner Training
Join us for an advanced course designed for those  interested in customizing TenForce to match their business process, as well as administrators who want to gain a better understanding of the advanced mechanics of the product.
Why take this training?
Following this training will enable you to configure workspaces, customize your own processes using advanced workflows techniques and automation, and master advanced user management. The course is structured as a mix of theory and hands-on workshop and everybody will have the chance to ask questions related to specific day-to-day scenarios.
At the end of the 2-day course, the trainees will receive a personalized certificate after passing a brief test.
Good to know
The participant must be a Certified TenForce Admin Foundation user or must have at least 2 years of hands-on experience with TenForce in an administrator role: e.g. understanding workspaces and list configurations, and being able to configure workflows.
Course schedule
Day 1: Configure and manage workspaces
Setup workspaces

Manage list configurations

Define statuses and workflows

Define events and actions

Learn the user management system to allow the right group of people to work on your data

Convert workspace privilege setups

Grant workspace accesses to the right people

Tips & tricks to optimize work speed
Day 2: Master advanced user management
Assign list access

Deny execute privileges to workflows and actions

Define status privileges

Protect and hide content on items

Setup application roles

Tips & tricks to optimize work speed

Certification test
Key trainers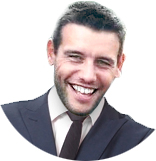 Bart Peremans
TenForce, Project Coordinator